PACIFIC BMW "SAFER AT HOME" UPDATE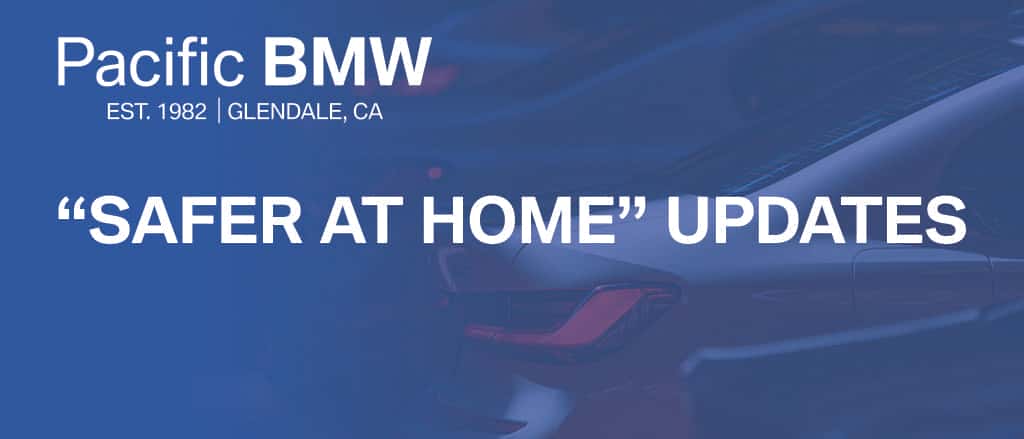 As a part of our Pacific BMW family, we are committed to providing a memorable and safe experience when you visit our store. We have been closely monitoring information provided by the Center of Disease Control (CDC) as well as our state and local governments to ensure the safety of our guests and our employees. We want to reiterate that above all, the safety of our guests and employees is our number one concern as we navigate these uncertain times.
Pacific BMW's Showroom is NOW OPEN. Please see our regular business hours or give us a call.
We will remain open virtually. You can browse our inventory, submit vehicle inquiries, and use our Digital Retailing tool to estimate monthly payments all on our website. For further sales inquires, you can contact us at 818-582-8560.
We also want to inform our guests that we will not be accepting lease returns until further notice. If you previously had a lease return scheduled with us, we will be unable to honor that appointment at this time. If your lease is expiring in April, BMW Financial Services is offering a complimentary 30-day lease extension upon request until April 30th, 2020. To get a lease extension, please contact BMW Financial Services at 1-800-578-5000. 
BMW Financial Services is also offering relief for current lease and retail customers. Upon request, impact lease accounts can opt for up to 2 delayed payments. Impact retail accounts can also opt for up to 2 deferred payments. All accounts are also offered one waived late charge.
We will continue to monitor the information provided by our local government and the CDC and follow the advice provided to us by these centers of information. We will provide further updates as soon we can.
From your Pacific BMW Family, we thank you for your continued patience and understanding. In the meantime, stay home, stay healthy, and stay safe.
Pacific BMW